Look, we're not saying you're a hipster but if you're reading this, chances are you share our appreciation for dining like the bourgeois – ironically, of course. Whether we like it or not, hipsters have a nose for scouting out cool places normally not on the tourist's radar (nor anybody else's, for that matter). The following is a non-definitive list of awesome and hidden restaurants loved by the Tallinn in-crowd.
To rate the following places, I'm using the Bourdain-Jarmusch scale, consisting of three factors. Firstly, there's the food category – probably the only one with any objective value. Then there's the cool category – how cool you'll look when you eat at the place. Thirdly, there's the instagramness category, that is, how good the place looks on Instagram photos.
Editor's note: this article uses sarcasm throughout, which for Estonians is the only acceptable way of expressing love. And we do genuinely love these places.
The Tallinn Old Town is sooo 13th century, but if you're too lazy to get away from the cobblestone streets to search for something a little less obviously vintage, there's an option to save face. Must Puudel rides high on the wave of ironic Soviet nostalgia, and is doing so by cramming as many old Soviet stuff into one place as possible. Because Soviet furniture only came in two variants (red and less red), the local ex-USSR crowd recognizes every single item – making them feel right at home. If you're not from the Eastern bloc, fear not – just pretend to be in on it (as a hipster would).
The Food
Of all the places on the list, Must Puudel is the most lounge-like, so food isn't the first and foremost of what people come here for – the place has plenty other things going on. But it's great for a quick fix. You get good value on a relatively comprehensive menu. Also, every time I pass their cake window, I can't help but grab me something sinfully chocolaty (and sprinkled with shame).
P.S. At Must Puudel, sticking around for drinks/light partying is absolutely mandatory.
The Cool
Strangely, and perhaps due to the local hipsters' insatiable hunger for ironic Soviet attributes, this place is still cool, despite having been open since Bush was still president.
The Instagramness
Ancient mini-TV sets and old furniture that looks like it was boosted from your grandpa's place – this is what Macklemore was on about. It's basically "Thrift Shop" versus the Evil Empire.
Kalamaja is THE hipster neighbourhood of Tallinn. Over the past decade or so, it's changed from a crime-ridden ghetto into a PG-13 version of "Boyz in Tha Hood". Almost everything here is cool by default, the flow of things dictated by 20-something scenesters who claim to be "down with the struggle", even though their only burden is the weight of their wallets.
Sesoon maintains a surprisingly normal client base though. There's a woolly sweater here and tortoise shell glasses there, but mostly you can enjoy your lunch without having to listen someone talk loudly about how they just discovered Jack Kerouac's "The Road" (and how much it feels just like their life).
The Food
Getting a table at Sesoon past six is no easy task, and there's a reason for that. What Sesoon does is simple foods with a modern twist. Best thing? Sesoon is more than reasonably priced. They also change their menu every season (hence the name), so there's always something new to try. I was devastated when they cut the rabbit ragout lumaconi in a tomato sauce, but found relief quickly when they introduced the chicken-lentil-pesto combo.
The Cool
This place was hot before it even opened, and they couldn't hide from the fixie-riding locals if they tried. And given their hidden location in a quiet back alley, I believe they did.
The Instagramness
Sesoon looks like a Soviet cafeteria if it was furnished by Ikea. That's totally deck.
Hetk is situated right on the edge of the Rotermann quarter. It's a district made up of hot new architecture mixed in with old factories, so Hetk is already cool by association. Minimalist style laid out on two floors, separated by white wooden rails, like some sort of a techno-Titanic. On weekends they host electro dance parties and luckily for the normal people, there aren't too many ironic moustaches on the dance floor. Just don't go asking the DJ for Black Eyed Peas and you'll be golden.
The Food
Totally fresh. I once ordered an apple cake with rhubarb ice cream and strawberry balsamic sauce. It wasn't just the presentation and amazing taste that won me over. The cake's crumble base was broken up and scattered around the plate. It made perfect sense as you'd end up doing that anyway, right?
Mind = blown.
The Cool
Hetk hosts the locally famed Louis & Eric Comedy Nights on a regular basis. Understanding English enough to enjoy stand-up is what sets trendsetters apart from peasants. Not being a peasant is cool.
The Instagramness
Plenty of instagram worthy moments, from minimal posters to the whole old mixed with new thing. Also, lines – hipsters love lines!
Klaus has set up shop right on the dilapidated Kalamaja waterfront, not far from Linnahall – a massive pyramid shaped Soviet culture palace. The old coal plant ruins nearby are so cool (in a post-apocalyptic sort of way) they were used as a movie prop in the 1979 Russian cult classic "Stalker". You've probably never heard of it, but sci-fi hipsters know better to appreciate this (largely irrelevant) legacy. The outdoors area lets you quietly judge the cruise ships passing by, as you sip on your Appletini (oh you so fly).
The Food
Klaus keeps it simple. The menu is pretty stripped down, allowing you to quickly pick something good without thinking too much. This is an artisan refuge and thinking, after all, is the domain of the boring.
I've often come here when I've had but limited time. Anything in the pasta and risotto section is delicious, quick and relatively cheap. But Klaus is far from a simple pit stop – the rest of the menu is well worth your money too. Five spice beef steak? Yes please!
The Cool
Klaus shares its grounds with the Estonian Designers Association HQ. Put it this way – if cool was a nuclear explosion, then Klaus is at the epicentre. They host parties and pop-up fashion shows. At a café. Whaaat!?
But Klaus is also stunningly humble. I once showed up in horribly mismatched pants and sneakers (it was one of those lazy days), and still got treated super nice by the absolutely dapper looking staff. Though I must admit, horribly mismatching pants and sneakers is kinda hipster.
The Instagramness
Literally, Klaus is so full of Instagram-worthy things, it deserves its own app. But I had to pick just one, so I went with deer antlers next to a chaotic pile of coffee cups:
Like Sesoon up there, Boheem is a popular spot among the Kalamaja dwellers, though this place is a little different. Taking homeliness to a new level, it's cozy enough to be super-authentic. It also helps that Boheem is just across the street from one of the dodgiest markets in town. This means you can sit by the window and immerse yourself in the local working class struggle without really putting yourself in any actual danger. Though let's face it – in terms of violence, Kalamaja is more Williamsburg than Compton (the biggest crime last year was someone wearing a tie-dye shirt in public).
The Food
Boheem is ideal if you're travelling on a budget. They keep their portions big and prices low. This doesn't mean, however, that they make concessions on quality. Excellent value is the key to Boheem's continued popularity. Wraps, crepes, pastas and salads – it's all great honest food.
The Cool
Boheem's been around for some time now and there's a reason it hasn't gone out of fashion. Other than providing excellent value meals, Boheem is your ideal neighbourhood cafe. Few people can afford a place in Kalamaja, but eating at Boheem automatically makes you look local. Just don't forget to equip a pair of colourful Wayfearers for the full effect.
The Instagramness
Everything will come out super local. Add some soft light, plenty of blur and you'll look like you went deeper than a Navy SEAL.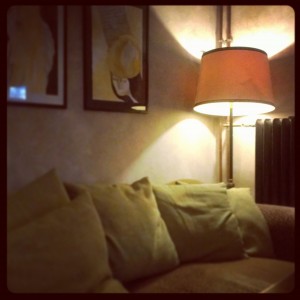 The Kalamaja coastline has seen less development than North Korea. Yet this tumbleweed-prone wasteland decorated with little more than piles of rubble is a magnet for anyone appreciating the post-modern condition of our being. The people behind Moon decided that this is precisely the kind of place for gourmet cooking.
The Food:
Top chefs going back to the basics, Moon captures the essence of Nordic cuisine, with hints of Russian flavours here and there. They keep it fresh and simple. It's all looking very snappy and whatever you'll have, you'll probably be amazed. I mean look at the menu – salmon kulebyaka with oven-baked beetroot and tar tar sauce. I don't even know what that is, but I just know my taste buds want to make love to it! While definitely not the cheapest place on the list, it's worth every penny.
The Cool:
You'll see more Audi's and BMW's than bicycles here, so hipsters should approach with caution. But think about it – fine dining amid ruins and urban decay. Points for irony.
The Instagramness:
Look at that cheesecake! And that sorbet! I'd be tempted to call that parisienne (if I knew what that word meant).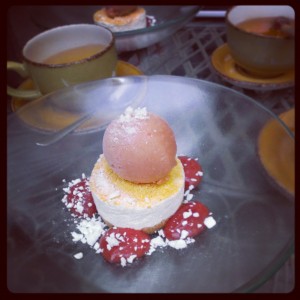 NOP is short for Neighbourhood, Organic and Practical. Now, practicality is not the hipsters' forte (the jeans are always too tight), but "neighbourhood" and "organic" is for trendsetters what Alpha and Omega is for the Bible – everything!
NOP is situated right on the edge of Kadriorg. Like Kalamaja, it's a wooden house district, but unlike Kalamaja, it's not as obviously trendy. It has everything a hipster might desire. There's kitsch (the old Kadriorg baroque palace), there's the cutting edge (the massive KUMU art museum/evil villain lair) and there's a big park for having wine on the grass while blasting The Smiths from your iPhone. So decadent!
The Food:
Probably as eco as it gets – which is a good thing. They've got a decent range of options on the menu, from breakfast to lunch specials. If you're in a hurry, you can go with the always popular coffee & pastry combo. If you've got time, do explore every option to see what suits you best.
That's not all. NOP also runs an organic produce shop with a pretty impressive selection of various eco-foods so it might be a good idea to take something home. Like a free range cake. Which, of course, are different from cakes grown in barns.
The Cool:
These guys try hard to not look like hipsters. Trying hard is not hipster. But what's more hipster than not being hipster? Meta-cool? Whoa.
The Instagramness:
Instagram-worthy inside and out. Especially out: